4 November 2011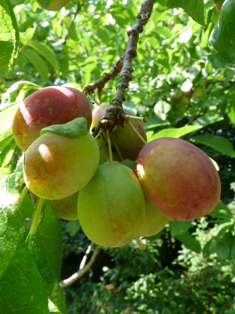 Volunteers Plant Fruitful Hedges
As part of The Tree Council's "Hedgerow Harvest" project, Natural Enterprise will be working with local people to plant over 300m of new fruiting hedgerow at six locations around the Island later this month.
"These will grow to make new and attractive features that are good for people and good for wildlife. The hedges will at each of the sites fit in with conservation work that's already been started but will be perfect for scrumping too!" said Ian Boyd of Natural Enterprise, "We are planning bigger fruit tree planting projects at some of these sites and the Tree Council scheme is a perfect way to get things started. Keep an eye on the Natural Enterprise website for details as the work gets underway."
"In the past, hedges were used as larders of healthy seasonal food and apples, berries and nuts were collected as a healthy tasty supplement to the diet," commented Margaret Lipscombe, The Tree Council's programme director for Hedgerow Harvest. "This is a great project for anyone with an interest in food and the environment to get involved in."
The Hedgerow Harvest project seeks to reconnect people with their heritage of free local healthy food. It builds on existing work being carried out as part of The Tree Council's Hedge Tree Campaign and will encourage local people to access food for free on their doorstep by supporting a network of hedgerow foragers across the region who can inspire their neighbours and undertake projects in their communities.
The project is:
– promoting the use of hedgerow produce by providing advice and information on the Hedgerow Harvest website
– producing a collection of recipes collected from Tree Wardens and Tree Council members to inspire more people to collect hedgerow produce
– developing 10 demonstration hedge projects that can be accessed by interested local community and school groups
– providing advice about what to grow and how to plant and maintain a productive hedge
– producing a hedgerow harvest teachers pack with lesson plans that meet the need of key stage 3
The project will run for two years and is supported by a Local Food Grant from The Big Lottery.
For more information on this project contact Ian on 01983 535888 or email ian.boyd@naturalenterprise.co.uk
You can also visit www.naturalenterprise.co.uk