20 April 2010
The Isle of Wight's woodland industry is set to receive invaluable support thanks to a new collaborative project between the Isle of Wight Economic Partnership (IWEP) and the Isle of Wight's Area of Outstanding National Beauty (AONB).
Graham Biss, Chief Executive of the Isle of Wight Economic Partnership said "The aim of the project is to increase the economic and environmental value of the Island's woodlands, addressing both the supply and demand chains of local woodland products."
Graham continued "Much of the Island's woodland has been under developed as markets for timber on the Island are very limited; but with more businesses and communities choosing biomass as a source of heat, it provides a boost for the rural economy with jobs being created, from foresters and hauliers to wood fuel suppliers and boiler installers".
A part-time project officer, Danny Horne joins the Isle of Wight Economic Partnership to help deliver the project and to work with local professionals and businesses to encourage the use of Island woodland products. His main focus will be to promote the economic and environmental benefits to key decision-makers and to identify the Island's economic woodland activities and potential.
Fiona Hanna, AONB Lead Officer said "There is a lot of under developed woodland on the Island, but by managing these areas for production, landowners could generate an income and improve biodiversity. Locally-grown wood fuel is a low carbon alternative to fossil fuels and will help the environment locally, by improving wildlife through woodland management. Wood fuel boilers are suitable for a whole range of larger, commercial and community buildings, and we want more people to consider this traditional fuel as a future energy source."
A dedicated website for the Isle of Wight's Woodland industry supports this project and is now live to view. The website offers information to both Isle of Wight consumers, helping them to make informed choices about the purchase of local woodland products, and to the woodland owners to find local contractors to manage their woodlands in a sustainable and economic fashion whilst protecting biodiversity.
If you would like further information on this project, or would like your business to be included in the on-line directory please contact Danny Horne at danny.horne@iwep.com or call Danny on 01983 535883
1 April 2010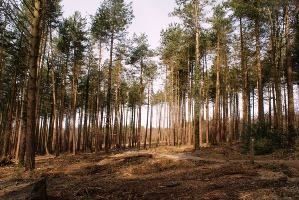 A Forestry Commission scheme to plant tens of thousands of trees in new woodlands across the Isle of Wight is being re-introduced.
The last time the grant initiative was on offer between 2001 and 2006, the extra funding enabled new woodlands to be planted across the island equivalent to the size of 355 football pitches.
Now the Jigsaw Scheme is being brought back as an incentive to private landowners, in a bid to reconnect blocks of ancient woodland to allow wildlife to move more freely. Last time it was so successful that the Island's woodland cover was increased from 10 to 12 per cent.
Parkhurst Forest, which is managed by the Forestry Commission, is a stronghold for important species such as Red Squirrel, Barbastelle and Bechstein bats and the Pearl Bordered Fritillary Butterfly. Therefore, it is a key forest around which the Forestry Commission would like new planting.
Michael Pittock, Beat Forester for the Isle of Wight, said:
"Years ago urban development and agricultural removal of woodland left blocks of ancient forest scattered across the Island. These discrete blocks make it harder for rare species to migrate and survive extreme climatic conditions and other threats, so now we are putting parts of the jigsaw back together."
The Forestry Commission is working closely with the Hampshire and Isle of Wight Wildlife Trust to help landowners with applications and provide guidance on where, how and what to plant. The grants are available to landowners with a minimum of 0.25 hectares to plant. Those who can offer public access may be given priority.
Richard Grogan, from the Wildlife Trust, added:
"This is such fantastic news for the island. Extending woodlands provide a huge benefit to rare species, including red squirrels, dormice, long-eared owl, wood cricket, narrow-leaved lungwort and several species of bats. Not only has this but it also provided a huge improvement in the quality of life for people on the Island, too."
Helen Butler, of the Wight Squirrels project, commented:
"I am a big fan of the Jigsaw Scheme as it will allow red squirrels to reach and colonise otherwise isolated woodland."
One of the largest applications for new woodland planting during the previous run of the Jigsaw Scheme was from the Briddlesford Estate, owned by the People's Trust for Endangered Species. The Trust planted 9.7 hectares in a core area for the Red Squirrel, linking two separate parts of ancient woodland near Havenstreet.
In addition to the Jigsaw Scheme planting on private estates, the Forestry Commission will be planting over 6,000 new trees on the public estate at Parkhurst Forest next year as part of the forest design plan.
Michael Pittock concluded by saying:
"Over the long term we hope that the newly planted woodlands combined with the management of our existing forest will see the Island's wildlife increase, halting the decline of our rarest species and giving them security for decades to come."