14 September 2011
A 2011 "Let it Bee" Isle of Wight Festival t-shirt, signed by Pixie Lott, Lissie, Seasick Steve, Mike Rutherford, Plan B and more is up for auction on ebay.
All proceeds will go to the Isle of Wight's "Let it bee" campaign run by the Gift to Nature conservation charity.
Let's get bidding and raise more cash to save our bees.
The auction closes on Monday 19 September at 12.15 so don't delay!
Follow this link for the item
12 September 2011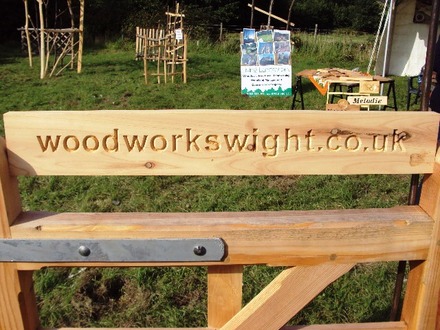 The Island Woodland area was once again a great success at this year's Wolverton Fair.
Organised by Danny Horne, a number of local woodsman and craftsman were on hand to display their products.
Tom Murphy and Jim Clinton from "Out of the Woods" had a number of coppiced items on display that he had made from chestnut from Parkhurst Forest.
Marcus Matthews from Redhill designs was displaying his signage made from off-cuts from his brother Peter Matthew's timber business. Many of these signs can be seen alongside rights-of-way in the West Wight. In addition Marcus is now experimenting with a range of kitchen products made from Isle of Wight wood, and ideal for Christmas gifts.
Paul Sivell and Guido Oakley amassed a large audience as they demonstrated their chain-saw sculpting skills.
With the recent chilly weather, Danny experienced a lot of enquiries for local logs and directed buyers to this website.He said "Overall the weekend has been a huge success and an opportunity for people to see the diverse range of activities on the Island. There are now more woodlands being actively managed than there has been for a good number of years which is encouraging".