12 September 2011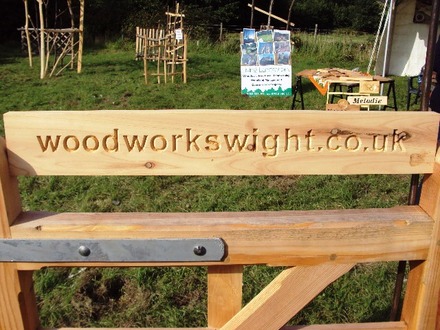 The Island Woodland area was once again a great success at this year's Wolverton Fair.
Organised by Danny Horne, a number of local woodsman and craftsman were on hand to display their products.
Tom Murphy and Jim Clinton from "Out of the Woods" had a number of coppiced items on display that he had made from chestnut from Parkhurst Forest.
Marcus Matthews from Redhill designs was displaying his signage made from off-cuts from his brother Peter Matthew's timber business. Many of these signs can be seen alongside rights-of-way in the West Wight. In addition Marcus is now experimenting with a range of kitchen products made from Isle of Wight wood, and ideal for Christmas gifts.
Paul Sivell and Guido Oakley amassed a large audience as they demonstrated their chain-saw sculpting skills.
With the recent chilly weather, Danny experienced a lot of enquiries for local logs and directed buyers to this website.He said "Overall the weekend has been a huge success and an opportunity for people to see the diverse range of activities on the Island. There are now more woodlands being actively managed than there has been for a good number of years which is encouraging".