31 January 2012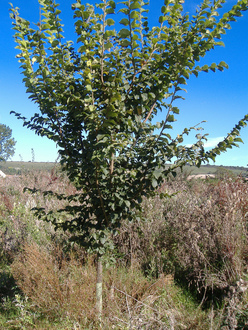 Elms were once the characteristic mature trees across much of the Island's landscape but have been devastated over the past 40 years by Dutch elm disease (DED), a lethal fungal infection spread from tree to tree by bark beetles.
The loss of English and wych elms as large trees (they still survive in hedgerows) has not only changed the look of the countryside, it has also affected a wide variety of species that were dependent on them such as the scarce white-letter hairstreak butterfly.
Since the last big outbreak on the Island in the 1990's Island 2000 Trust has distributed and planted, with the help of landowners and communities, thousands of disease resistant cultivars across the Island in an attempt to restock woods and copses and create a whole new generation of elms for the future.
Natural Enterprise and the Isle of Wight Area of Outstanding Natural Beauty Partnership are now looking to follow up on this work and think about the best policy for the future of Island elms. Thanks to funding from the AONB Sustainable Development Fund the project will:
*Identify which of the current and new resistant varieties might be appropriate for the Island , and where.
*Create a record of healthy elms within the AONB landscape, perhaps finding naturally resistant hybrids.
*Revisit some of the early elm planting schemes to check on their progress.
*Look for locations where replanting elm cultivars could support communities of lichen and other important species such as the white-letter hairstreak.
*Influence tree planting schemes across the Island to incorporate elms
*Identify partners who can help in future planting programmes
We will be conducting a survey to identify elm trees around the Island which will be launched soon. In the mean time if you have any photos of existing mature elms please send them in and let us know where they are. Send your photos to Natural Enterprise, The Innovation Centre, St Cross Business Park, Newport, PO30 5WB
or email them to Sam
sam.buck@naturalenterprise.co.uk
For more information on this project contact Sam on 01983 535884 or visit www.gifttonature.org.uk