14 December 2010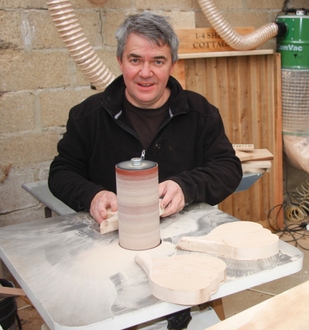 In the last 18 months the Isle of Wight woodland industry has been allocated more than £137,000 of LEADER funding to help businesses boost their competitiveness, invest in forest extraction handling, processing and storage equipment and develop wood fuel technologies.
Managed by Natural Enterprise, LEADER funding is still available to farmers, growers and other rural based businesses including those involved in tourism and rural communities. People looking to set up their own forestry business are also eligible to apply.
One new business that has taken advantage of the support available is Redhill Farm Designs, run by Marcus Matthews. Using local wood and waste timber (sourced from his brother's local business), Marcus produces bespoke signage for footpaths and house names and as well as chopping boards of various shapes and sizes.
Marcus Matthews said "Without the help of LEADER funding we wouldn't have been able to expand the capabilities of the business. The initial outlay for the equipment was very high but we were able to obtain 50% match funding for the project. There was of course some paperwork to do, but nothing too onerous."
To date projects which have received funding to purchase capital items include; equipment to aid wood burning stove and design work, wood sign design and production, wood chipping, timber extraction, furniture production and furniture design and manufacture.
Judi Griffin, Chairman of LEADER's Local Action Group said "This funding should be taken advantage of especially by those land based industries which have been under invested in. We have had some great, innovative projects come through which are now being supported and we are encouraging more people to come and have a chat with us about their new possible ventures."
RDPE LEADER funding is available to landowners and other rural based businesses to improve the economic value of forests and add value to forestry products. The applications are made on a competitive process and a maximum grant available for a single project is £50,000. Aid rates vary but are in the region of 40% – 50% and only for capital purchases.
For more information on how LEADER funding can help you or your business contact Carol Flux on 01983 535836 or visit the Natural Enterprise website