CHARCOAL ON THE ISLE OF WIGHT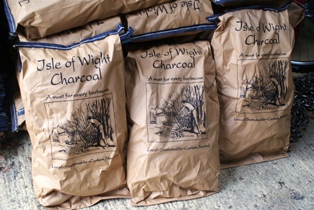 Charcoal is made when wood is heated in the absence of air. Since the 1920s this process has used metal kilns to contain the wood in an air-controlled environment during the carbonisation into charcoal. It takes many hours to burn off water moisture and other chemical elements. Combustion is then arrested by shutting out all the air to leave a solid black residue to cool which we know as charcoal.
Generally speaking, the denser the timber, the better quality of the charcoal produced. All UK charcoal burners use hardwood – not resinous soft woods. Therefore the most commonly used woods for this purpose are ash, beech, oak, chestnut and hazel.
To find Island suppliers able to offer this product please use the Directory