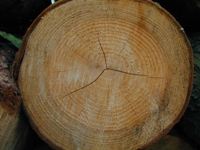 FELLING ON THE ISLE OF WIGHT
To help protect Britain's forests, a felling licence from the Forestry Commission is required to fell trees. It is an offence to fell trees without a licence if an exemption does not apply.
For details of how to obtain a licence click here
There are other legal controls on tree felling mainly covered by Tree Preservation Orders and the Hedgerow Regulations. This legislation is administered by local planning authorities. Controls also exist that apply to the movement of timber. An application to fell trees can be made as part of a grant scheme application.
Most Island contractors will fell trees where the proper licensing exists. However, some island woodlands are too steep, muddy or small for larger machinery.
To find Island contractors able to offer this service please use the Directory