PELHAM WOOD ON THE ISLE OF WIGHT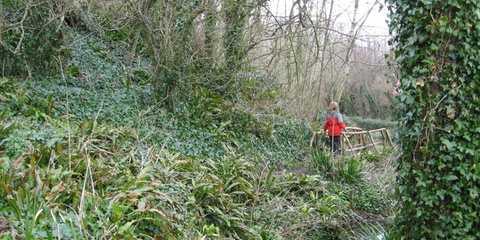 Wight Nature Fund
Map ref: SZ540767, Bus route: railbus 16 (7 Sisters Road) 6 (Botanic Gardens, 1km), Footpaths: V76, V117.
In 1841 the tithe map for St Lawrence shows Pelham Woods as rough pasture with woodland confined to the steepest slopes. Today Pelham Woods has an intimate mixture of native plants such as harts tongue fern, lesser celandine and bluebell and the more exotic green alkanet, buddleia and pendulous sedge.
Sycamore woodland covers most of the site, casting dense shade which is favoured by spring-flowering plants such as yellow archangel, bluebell, daffodil and the nationally scarce Italian lords and ladies. The high humidity also favours lush moss growth on the boulders which make up the terrain here. Red squirrels, lost after the storm of October 1987, have now returned and dormice are also present. The distinctive paths of badgers can be found weaving their way throughout the wood.
In the hazel/ash scrub primrose, alexanders, tutsan and buddleia are all found forming a scrub layer. This is being thinned to promote tree species and reduce the elder cover. The nationally rare parasitic ivy broomrape is found here.
Wet areas are created by springs coming from the landslip above and allow alder, comfrey and willowherb to grow prolifically. The clean water means that liverworts and mosses do well on the pond edges.
The old trees are being made safe but deadwood is kept for nesting little owls, woodpeckers and beetles. The remains of the largest oak in the Undercliff can be seen.
Glades have been opened up to allow light through to help woodland flowers to flourish. Elder scrub and sycamore are being controlled to favour oak, ash, field maple and hazel. Some hazel has been planted by local school children and members of the public.